Activated carbon filter media is extensively used in water purification due to its high porosity and large surface area. The most common natural substances utilized as the base material for activated carbons are lignite, anthracite coal and peat, and coconut shell. As for the drinking water filtration, coconut-shell based activated carbons are the most preferred. Hence, for sake of the health of you and your family, before buying a refrigerator water filter for your daily water consumption, you need to understand whether the water filter cartridges you settle on are coconut activated carbons or not.
---
Activated Carbon Water Filtration
Carbon has long been used as a great water filtration media due to its capability to absorb impurities and its porous structure which allows fluid to flow through it. Carbon possesses millions of tiny pores, which are usually invisible to our eyes but can absorb thousands of pollutants from water as well as enable a significant amount of surface area to contact the water. Activating the carbon with a slight electro-positive charge can make it more effective in attracting impurities and chemicals. This type of carbon is known as the activated carbon, and when the water travels over the charged carbon surface, the negative ions of the contaminants are drawn to the surface of the carbon. Most activated carbon water filters are coconut and coal activated carbon filters. For many years, conventional water filters have used coal carbon as a filter media. But now coconut-shell activated carbon filters are considered to be the most effective and ecological carbon filters.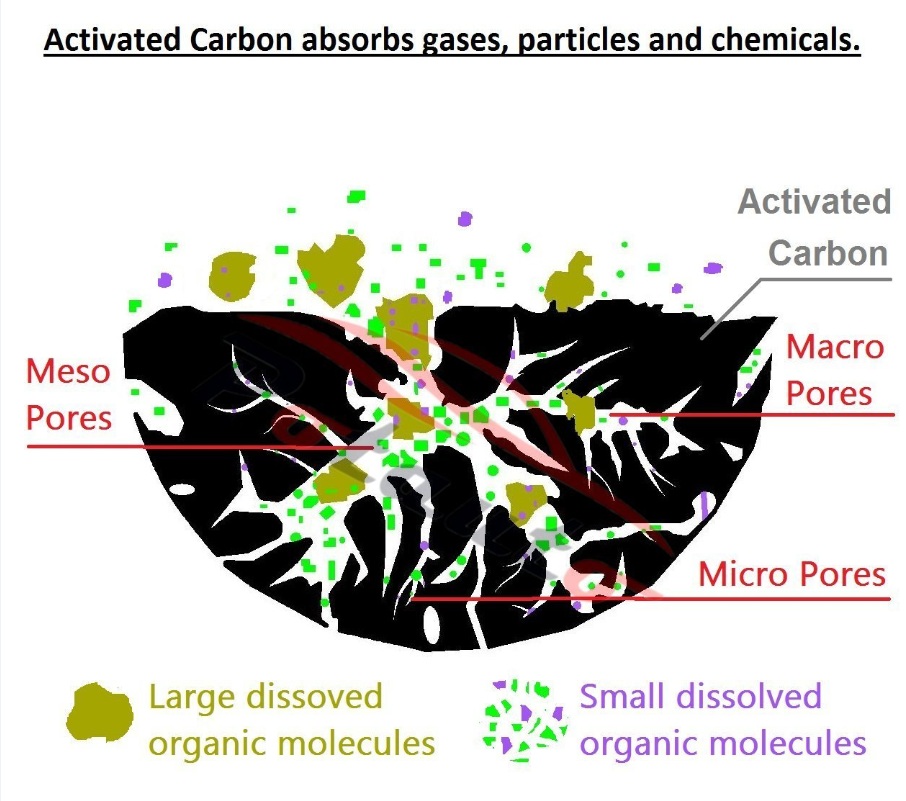 ---
Comparison Between Coconut-Shell and Coal Activated Carbon
In the water filtration applications, although two most common activated carbons are high valued adsorbent material, they have different effects on the water as they have different specifications and inner features. The following table shows the technical difference between the two types of carbons based on density, hardness and other parameters:
| SR No. | Character | Coconut Activated Carbon | Coal Activated Carbon |
| --- | --- | --- | --- |
| 1 | Density | 0.48-0.58 GM/CC (Very High) | 0.38-0.48 GM/CC (High) |
| 2 | Hardness | 98% Min (Very High) | 90-95% (High) |
| 3 | Ash | 3% Max – Very Low | 10% Max - High |
| 4 | Porosity | More Micropores | More Mesopores & Less Micropores |
| 5 | Wettability | Very High | Normal |
| 6 | Heavy Metals | Not Traceable | Present |
| 7 | Back Washing | Negligible Loss of Material | Low Loss of Material |
| 8 | Operation Cost | Low | Normal |
| 9 | Best Suitable For | Dechlorination | Odour Removal |
| 10 | Availability | Renewable Source (Agricultural Byproduct) | Fossile (Limited Availability) |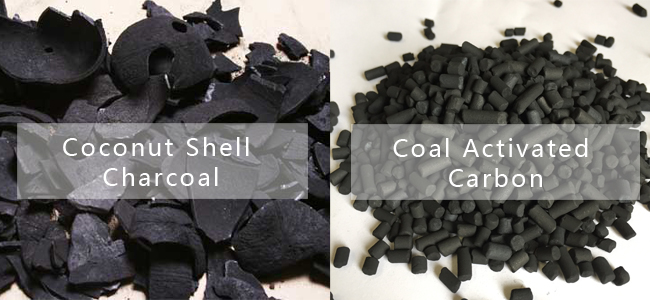 Compared to coal activated carbons, coconut activated carbons are predominantly microporous and the least dusty, hence they are very efficient when it refers to organic chemical adsorption. Also, coconut-shell based carbons tend to be harder and more hesitant to abrasion, which makes them ideal for water purification. Meanwhile, Coconut shells are an eco-friendly and a renewable resource for water filtration, which has no negative impact on the environment. Last but not least, further advantages of coconut-shell based activated carbons – they adsorb volatile organic chemicals, pesticides and herbicides, disinfection byproducts, remove halogens and improve the taste and appearance of water.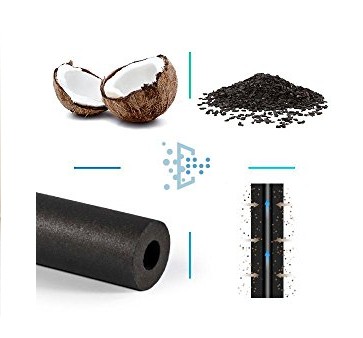 ---
Best Refrigerator Water Filters with Coconut Shell Carbons
Today nearly all households have a refrigerator, and a great portion of these fridges have built-in water and ice filtration systems. If you are looking to upgrade your fridge water filter system, then look no further!
Clatterans has made a commitment to provide fridge water filters that offer customers a healthy and eco-friendly alternative to the traditional carbon filter. Various types of refrigerator filters online here are designed with premium coconut-shell based activated carbons. Tested and certified by IAPMO and NSF/ANSI Standards 42, all fridge filters are very efficient at eliminating most contaminants, taste and odour from the tap water, as well as keeps the drinking water at a chilled and drinkable temperature. The refrigerator water filter replacements are having discounts at present and affordable for every household, such as Whirlpool Refrigerator Water Filter 1 and Kenmore 9030 Water Filter.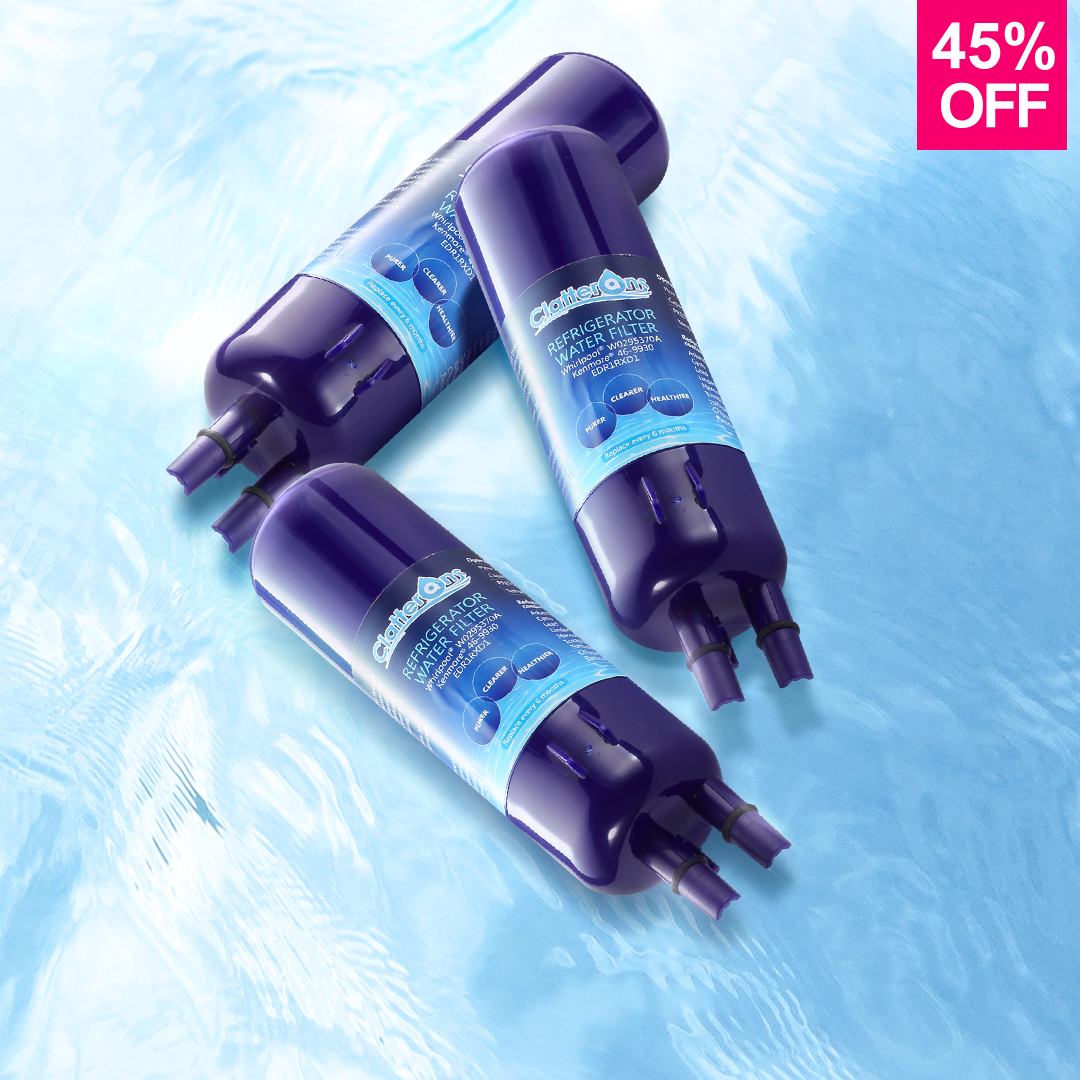 For more high-quality discounted water filter replacement, you can click Clatterans.com and find the right filter for your current refrigerator.