Why Do We Need Water Filters? Are They BS?
Yes, we need water filters and they are not BS as water contamination can occur naturally or from human activity, according to the Environmental Protection Agency. You can find microorganisms, nitrate and nitrite, heavy metals, organic chemicals, lead, chlorine and more contaminants in unfiltered water. They all have possible impacts on human health, such as stomach flu or more chronic conditions including a variety of cancers and neurological disorders.
Water filters are designed to eliminate specific contaminants, ridding your water of impurities. To be assured a filter will remove a certain contaminant, the package should say the filter meets NSF-standards for that substance. NSF International is a nonprofit testing lab that develops standards for the industry. Third party labs that certify products to NSF standards include CSA, UL, and WQA.
Most important of all, you have to regularly change the filters or don't bother buying one. All filtering systems work the same way, with water passing through a removable cartridge filled with a filtering medium such as activated charcoal. Filters will eventually become clogged, and no longer effective. Follow the manufacturer's recommended schedule for replacement. Some water filters have a light which tells you it's time to replace the filter, and slower-than-usual filtering may also indicate it.
The costs of replacing filters vary by filter type and model. In Clatterans, refrigerator water filter cost per year is only $36. Let's see the features & specs of a Clatterans water filter.
---
What is a Clatterans Water Filter Made of?
Clatterans meets NSF/ANSI standards 42 and is IAPMO Certified. With high-efficient coconut activated carbon instead of traditional coal activated carbon, the filters reduce 70+ contaminants, including 99% of lead, mercury, chlorine, pollutants, pesticides, pharma, and cysts. Compared to coal activated carbons, coconut activated carbons are predominantly microporous and the least dusty, hence they are very efficient when it refers to organic chemical adsorption. Also, coconut-shell based carbons tend to be harder and more resistant to abrasion, which makes them ideal for water purification. Meanwhile, coconut shells are an eco-friendly and a renewable resource for water filtration, which has no negative impact on the environment. As for the drinking water filtration, coconut-shell based activated carbons are the most preferred.
---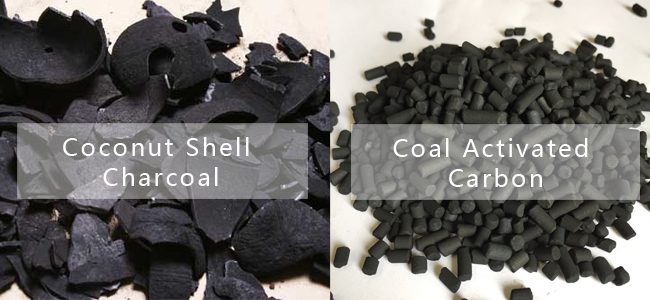 Comparison Between Coconut-Shell and Coal Activated Carbon:
| | | | |
| --- | --- | --- | --- |
| SR No. | Performance | Coconut Activated Carbon | Coal Activated Carbon |
| 1 | Density | 0.48-0.58 GM/CC (Very High) | 0.38-0.48 GM/CC (High) |
| 2 | Hardness | 98% Min (Very High) | 90-95% (High) |
| 3 | Ash | 3% Max – Very Low | 10% Max – High |
| 4 | Porosity | More Micropores | More Mesopores & Less Micropores |
| 5 | Wettability | Very High | Normal |
| 6 | Heavy Metals | Not Traceable | Present |
| 7 | Back Washing | Negligible Loss of Material | Low Loss of Material |
| 8 | Operation Cost | Low | Normal |
| 9 | Best Suitable For | Dechlorination | Odor Removal |
| 10 | Availability | Renewable Source (Agricultural Byproduct) | Fossil (Limited Availability) |
Overall Features of a Clatterans Refrigerator Water Filter:
IAPMO Certified and meets NSF/ANSI standards 42
Use state of the art technology to remove chlorine taste and odor, toxic heavy metals, pesticides, bacteria and microbial cysts.
Six months water filter service life
Easy and fast filter replacement
Specification:
| | |
| --- | --- |
| Filter Type | Coconut Shell Carbon |
| Filter Life | 6 Months |
| Capacity | 300 Gallons |
| Operating Pressure | 30-125 Psi |
| Flow Rate | >0.5Gpm |
| Operating Temperature | 34-100°F |

---
Clean Water for a Better Life
Experts say that drinking better quality water can reduce headaches, improve skin, aid weight loss, increase brain power, flush out toxins, boost the immune system and even increase your energy levels. Upgrading your water supply with a Clatterans refrigerator water filter could be the answer to better health, better life.