REMOVE
1. Locate the existing filter. Remove it by turning the filter clockwise as shown in the graphics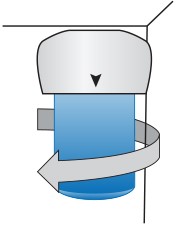 PREPARE
2. Carefully remove the plug on the top of the new filter. (Twisting the plug back and forth eases the plug out.)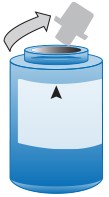 3. Install the new filter into the refrigerator by aligning the Start arrow with the arrow on the head of the refrigerator.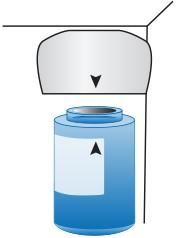 4. Twist the filter clockwise until the Stop arrow on the label is aligned with the arrow on the mount. The arrows must be aligned to activate the water valve located inside of the filter mount. IF THE VALVE IS NOT FULLY ACTIVATED THE WATER FLOW WILL BE SLOWER THAN NORMAL. In some instances, the partially activated valve may cause a "chattering" noise in the water line.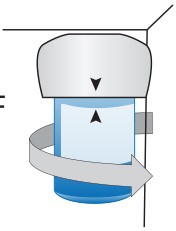 5. Check the water flow by filling a glass from the refrigerator's water dispenser. If the water flow is slow or there is "chattering," remove and reinstall the filter making sure that it is correctly and securely seated, and all of the arrows are properly aligned. Check again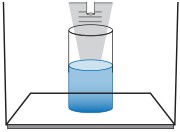 FLUSH
6. Run water from the dispenser for 5 minutes (approximately 3 gallons) to clear the system and prevent air from entering the system.
Note: The initial flow rate may be slower than expected. Full flow rate should be restored within 24-36 hours.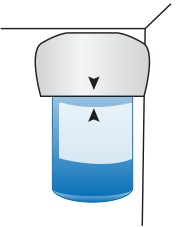 7. Check the new filter installation for any possible leaks. If a leak is detected, uninstall and then reinstall
COMPLETE
8. Reset the Replace Filter light, if needed, by holding the reset button in for 3 seconds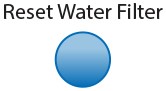 9. Attach the included date label according to the label's instructions. 
10. Replace filter every six months for best results.
For more quality GE MWF Water Filter Replacement, please visit clatterans.com
Images are for illustration purposes only.
Model Location may vary depending on refrigerator model.
Do not use with water that is microbiologically unsafe, or of unknown quality, without adequate disinfection. Protect from freezing.
FILTER REPLACEMENT SHOULD GENERALLY BE PERFORMED EVERY 6 MONTHS.
FILTER REPLACEMENT MAY NEED TO BE CONDUCTED MORE OFTEN IN AREAS
WHERE THE WATER QUALITY IS MICROBIOLOGICALLY INFERIOR.
The risk associated with small parts can cause choking if swallowed.
Keep children away from small parts during the replacement of the water filter.