A refrigerator's water dispenser and ice maker are convenient ways to get chilled water and crystal ice cubes. With a high-quality refrigerator water filter, you don't need to worry about consuming any impurities which may be injurious for health. There is also no need to think about filtered pitchers or countertop devices when you can get your hands on the best refrigerator water filter on the market. When buying OEM filters is an expensive option, you can always consider choosing compatible generic filters. Let's have a look at the comparison among top aftermarket refrigerator water filters and how to make the best use of them.
---
Comparison of Generic Fridge Water Filters
| Product | Clatterans Whirlpool Filter 1 EDR1RXD1 W10295370 & Kenmore 9930 | EveryDrop Whirlpool Refrigerator Water Filter 1 | FILTERSFAST Aquafresh 4396710P Replacement Whirlpool | PUR W1018667 Push-Button Refrigerator Water Filter |
| --- | --- | --- | --- | --- |
| Price/Piece | $19.9 | $18.99 | $18.99 | $21.99 |
| User Rating | | | | |
| Product Dimensions | 7.1 x 1.8 x 1.8 inches | 5.5 x 3.5 x 3.5 inches | 11.2 x 2.4 x 2.3 inches | 9 x 2.5 x 2.5 inches |
| Weight | 11.8 Ounces | 9.6 Ounces | 12.8 Ounces | 12 ounces |
| Filter Life | 6 Months | 6 Months | 6 Months | 6 Months |
| Warranty | 1 Year | Not Specified | Not Specified | Not Specified |
| Flow Rate | 0.5 gpm | Not Specified | Not Specified | 0.5 gpm |
| Certification | NSF & IAPMO & ISO | NSF | NSF | NSF & ISO |
#1 RECOMMENDATION: Clatterans Replacement Water Filter for Whirlpool Refrigerator Water Filter 1 EDR1RXD1 W10295370 & Kenmore 9930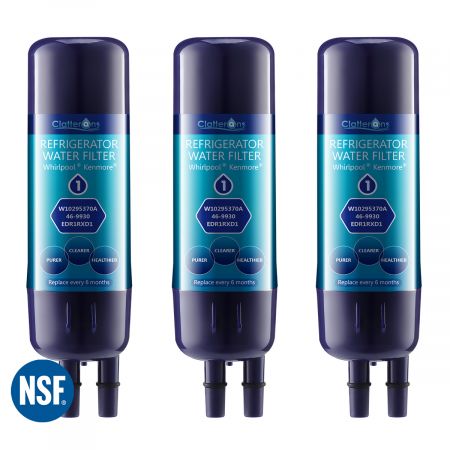 Featuring state of art technology, this Clatterans Refrigerator Water Filter can greatly remove 99% of chlorine, lead, mercury, cadmium, thallium and 70 more contaminants that are harmful to your health. The water filtration system is built to offer significant performance to reduce odor, chlorine taste, dirt, dust and other harmful sediments in the water. Meanwhile, it keeps the original minerals that are good for your body. For your peace of mind, Clatterans fridge water filter with up to 6-month long life is quality approved by NSF, IAPMO and ISO 9001 to serve you cleaner, fresher, better-tasting and wholesome water.
PROS:
NSF 42, IAPMO and ISO 9001 Standard
1 Year Manufacturer's Warranty
Easy Installation
Better Tasting Filtered Water
Far More Affordable Than OEM Brands.
CONS:
Some Complaints of Poor Water Flow After Initial Installation.
#2 BEST GE MWF REFRIGERATOR WATER FILTER SMARTWATER COMPATIBLE CARTRIDGE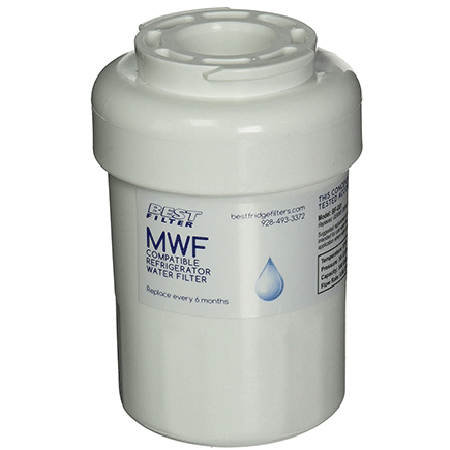 This third-party water filter is a viable alternative for the more expensive name brand water filters for GE refrigerators. This product is only NSF 42 certified, which means it handles the taste, color and other properties of water. However, unlike GE filters this is not NSF 53 certified, meaning it is NOT certified to filter out harmful microbes, pesticides, herbicides, and other natural things one would find with wells or accidental contamination along the delivery path to your fridge. So yeah, it's cheaper but it's not certified for carbon filtration and the removal of these things.
PROS:
Much Cheaper Than OEM
100% Lifetime Moneyback Guarantee From the Manufacturer
NSF 42 Certified
CONS:
Concern About Quality
#3 CRYSTALA FRIGIDAIRE REFRIGERATOR WATER FILTER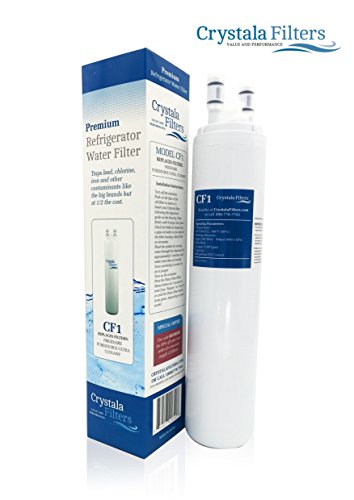 The Crystala filter is compatible for Frigidaire, Sears and Kenmore refrigerators and features a slide-out filter behind the freezer compartment. Its filter life is 6 months or 300 gallons. According to its introduction, it has organic carbon block triple filtration technology to reduce the chlorine and peculiar smell as well as impurities such as lead, iron, mercury and other pollutants. However, some customers complained that its filtered water tastes like metal and chemicals.
PROS:
Compatible With Puresource, Gallery, Professional Series Fridge and Some Electrolux Models
Organic Carbon Block Triple Filtration Technology
Reduces Lead, Iron, Mercury, and Other Contaminants
CONS:
Complaints of Weird Tastes in Water
#4 PURELINE SAMSUNG DA29-00020B COMPATIBLE WATER FILTER – REFRIGERATOR ALSO FITS DA29-00020A, HAF-CIN EXP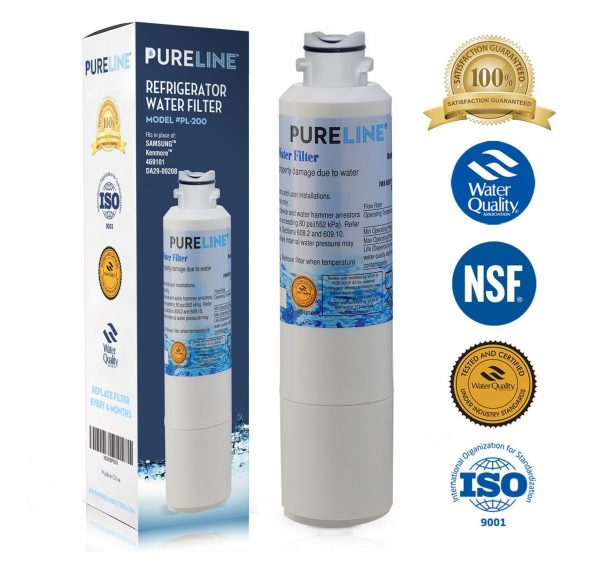 It's said on its product description that this PURELINE SAMSUNG DA29-00020B refrigerator water filter is certified by NSF and ISO to remove all  chlorine, bacteria, contaminants, chemicals and unhealthy elements of your fridge water. However, people have complained that it's not compatible, leaking and makes water taste more and more plastic-like over time.
PROS:
Much Cheaper Than Name Brand
Easy to Install
Generally Works Well
CONS:
Leaking Issues
Weird Plastic Taste in Water Over Time
Conclusion
Our list of the 4 top-rated fridge water filters has shown you to the kind of filters enjoying massive usage across all the homes in the US. Although all filters listed above have NSF certification, you still need to pay attention to their qualities. Make sure they're 100% compatible with your refrigerator and don't provide water with any weird tastes.