If you have a GE MWF fridge in your home, you will need to replace the refrigerator water filter eventually. The fridge water filter cleans the tap water and produces purified ice or drinking water for you and your family. When you notice the flow of water decreasing or strange tastes in the water or ice, the filter should be replaced. The piece will elaborate on how to install the GE MWF filter, as well as make a comparison between Clatterans and Tier1 about GE MWF filters' features.
---
How a GE MWF Refrigerator Water Filter Works?
Currently, many refrigerators come with a water filter. However, some appliances require an additional purchase of a water filtration system to give you clean and fresh drinking water. GE MWF refrigerator is a typical example. GE MWF refrigerator filters work by a purifying media of either carbon or charcoal. As the water flows through the filter, contaminants, particles, and bacteria will be absorbed by the purifying media, then released from the water. GE MWF fridge filters not only purify tap water for household use, but remove bad flavor and odor from the water as well.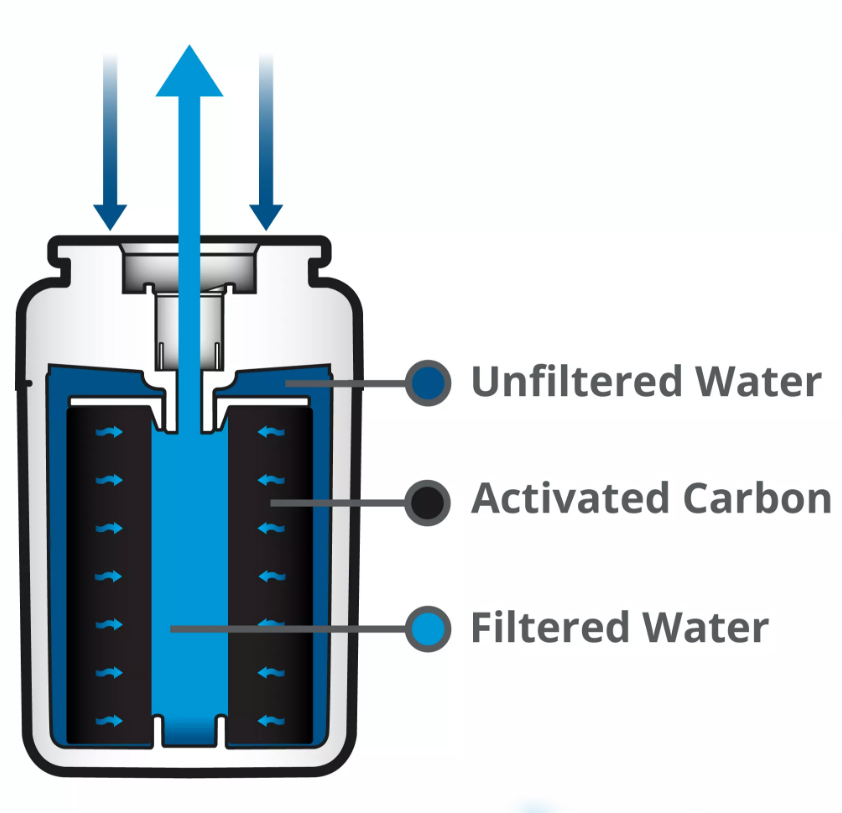 ---
GE MWF Refrigerator Water Filter Replacement Tutorial
Step 1: Locate the existing filter. Remove it by turning the filter clockwise 1/2 turn and pull the filter straight downwards. NOTE: It is common for some water to leak from the existing cartridge.
Step 2: Carefully remove the plug on the top of the new activated carbon water filter. Install the new filter into the refrigerator by aligning the "start" arrow with the arrow on the head of the refrigerator.
Step 3: Twist the water filter replacement counterclockwise until the filter stops. If the cartridge is not seated correctly, water will not flow. NOTE: Do not over-tighten.
Step 4: Check the water flow by filling a glass from the refrigerator's water dispenser. If the water flow is slow or there is "clattering", remove and reinstall the refrigerator water filter replacement making sure that it is correctly and securely seated.
Step 5: Flush 3 to 4 gallons of water from the refrigerator water dispenser before consumption to remove air pockets and loose carbon fines. NOTE: The initial flow rate may be slower than expected. Full flow rate should be restored within 24-36 hours.
Step 6: Reset the change-filter light, if applicable.
---
GE MWF Filter Replacement Comparison – Clatterans VS Tier 1
Appearance
Name
GE MWF Water Filter for GE Smartwater
GE MWF SmartWater Comparable
Replacement By Tier1
Brand
Clatterans
Tier1
Pack
2
2
Price
$24.99
$67.99
Size
4.8 x 3.15 x 3.15 Inches
4.75 x 3.25 x 3.3 Inches
Working Pressure
30-125PSI (207-862KPA)
30-120PSI (207-827KPA)
Operating Temperature
34°-100°F (1°-38°C)
33°-100°F (0.6°-38°C)
Brand Compatibility
GE, Kenmore, Sears, Hotpoint
GE, Hotpoint
Flow Rate
0.69 GPM (2.6LPM)
0.5 GPM (1.9LPM)
Primary Filter Media
Activated Carbon Block
Activated Carbon Block
Media
Coconut Carbon
Coconut Carbon
Capacity
300 Gallons
300 Gallons
Filter Life
6 Months
6 Months
Certifications
IAPMO & NSF/ANSI Standards 42
NSF/ANSI Standards 42
---
Conclusion
This is one of many types of fridge water filters available at Clatterans. Certified by IAPMO and tested to NSF/ANSI Standards 42, all refrigerator water filters are proven to be efficient in creating fresher, clearer and healthier water, and capable of removing chemicals, contaminants, sediments, chlorine and other harmful impurities. Find out the proper model for your current refrigerator. >>> Clatterans.com