People are aware that water safety is incredibly important to health, but most of us do not think about the water quality. We turn on a tap, fill a glass, and drink. This is no exception in many households of the United States – over 1 billion glasses of tap water Americans drink each day.
Before you take a gulp of water which just gushed out of your tap, how do you know that the water is free from disease-causing organisms? Is the tap water you're drinking safe or would filtered water be safer? What can you do if your tap water suddenly became contaminated?
---
Is US Tap Water Safe to Drink?
Before deep-diving into this topic, the general answer is "yes," as most tap water provided by local municipalities in the US is of a high standard. However, according to a recent report by the Natural Resources Defense Council, if you live in the United States, there is nearly a one-in-four chance your tap water is either unsafe to drink or has not been properly monitored for contaminants in accordance with federal law. Here is a summary from the report:
A quarter of Americans drink tap water that fails safety standards

All 50 states have water systems which violate the Environmental Protection Agency's Safe Drinking Water Act

In 2015, there were 80,000 safety violations affecting 77 million people, and few had enforcement action

The most at-risk for having a contaminated

water supply system

are those in rural areas, where the tap water has high levels of lead, nitrates, arsenic or other pollutants

The states of having most contaminated tap water include Texas, Florida, Pennsylvania, New Jersey, Georgia, Washington, Ohio, California, Arizona, Kentucky, Wisconsin, and Maryland
---
Benefits of Using a Refrigerator Water Filter
Getting and installing a good quality water filter in your fridge is much cheaper than other forms of water filtration system, but also has the added bonus of making sure you have access to chilled purified water whenever you want it.
A good refrigerator filter removes impurities while also providing you better smelling and tasting drinking water or ice directly dispensed from your refrigerator. If you live in a hard water area, it is also a great benefit to cut down limescale.
Compared to other water filters, fitting a filter in your fridge helps to save space in your kitchen. Plus, it is usually very easy to install and do not require any plumbing work.
Getting filtered water directly from the fridge also has the added benefit of having a longer filter lifespan when compared to pitcher or faucet water filters.
---
Whirlpool Refrigerator Water Filter 1 Reviews
Clatterans Whirlpool Refrigerator Water Filter 1 EDR1RXD1 W10295370, 2-Pack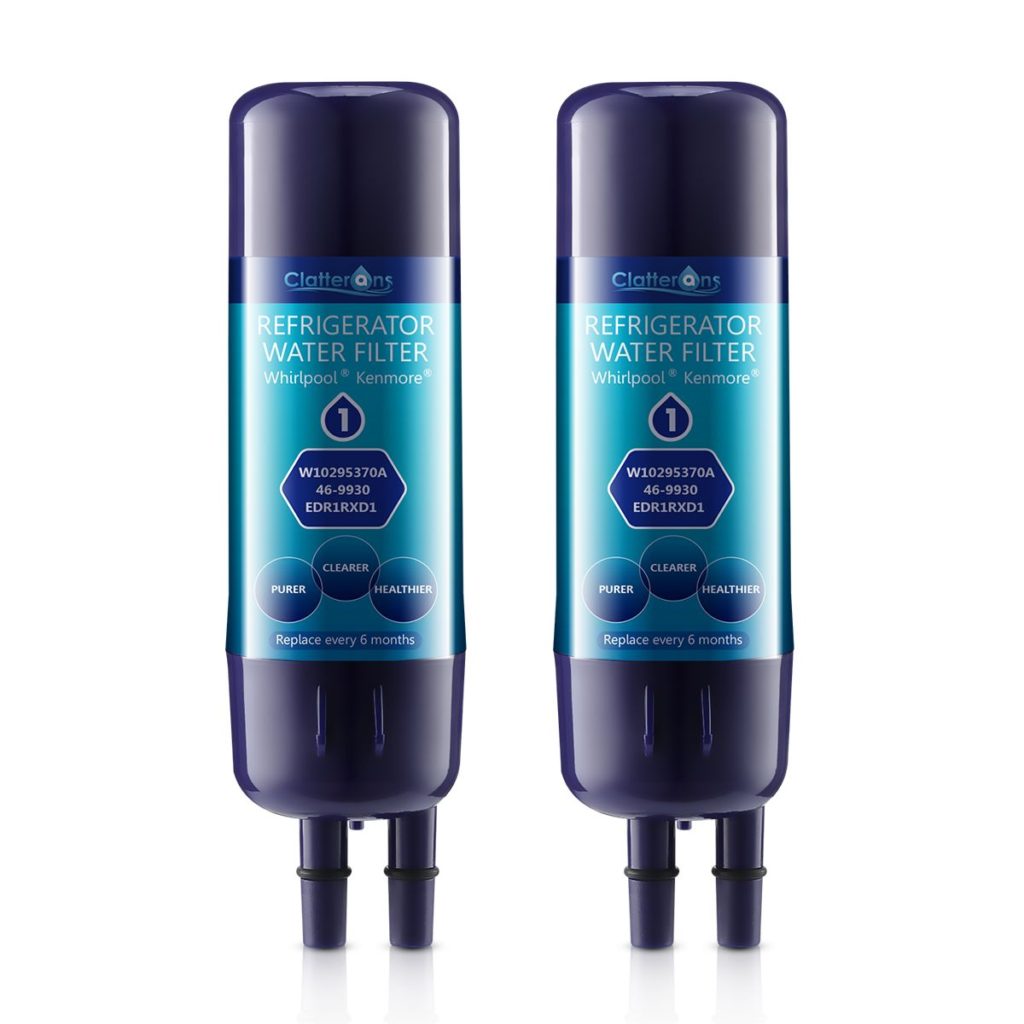 Pricing ~ $42.99
Features
✔️ Clean and healthy water for cooking and drinking
✔️ Reduces most contaminants, including lead, mercury, chlorine, pesticides, and more.
✔️ Efficient filtration with coconut-based carbon block
✔️ Compatible with Whirlpool, Kenmore, Kitchenaid, Maytag, Amana & Jenn-Air refrigerators
✔️ 6-month lifespan
✔️ Easy and fast replacement and no tools required
✔️ IAPMO and NSF/ANSI certified
Upgrade your quality of life and improve health with the Whirlpool refrigerator water filter 1 from Clatterans! This Whirlpool filter 1 can effectively remove heavy metals and other contaminants in the water. The activated carbon cartridge also greatly eliminate bad taste and odor while filtering away the impurities. The filter costs less than most Whirlpool water filters in the market without compromising any quality or flow rate, which ensures the filter is affordable for most families, as well as guarantees its optimum performance.
EveryDrop Whirlpool Ice and Refrigerator Water Filter 1, 1-Pack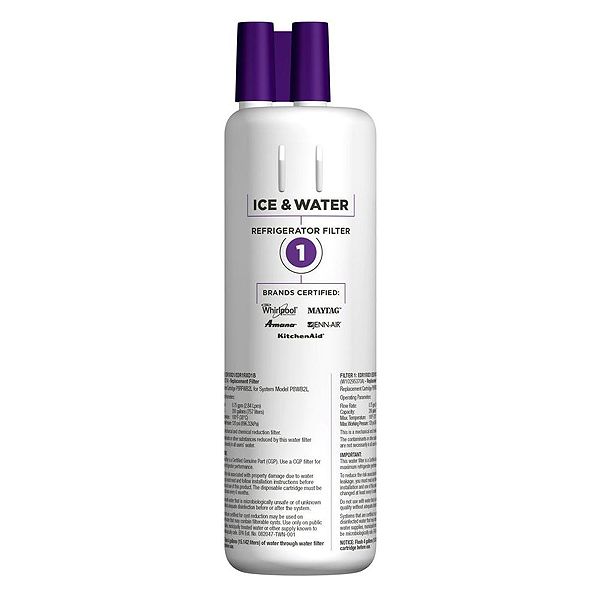 Pricing ~ $57.99
Features
✔️ Reduces many contaminants and chlorine for better tasting water
✔️ Provides fresh, filtered water and ice from your refrigerator
✔️ 6-month lifespan / 200 gallons
✔️ NSF certified
Whirlpool water filter 1 from EveryDrop is certified by NSF to reduce 24 contaminants, including heavy metals, industrial chemicals and waterborne parasites. It is guaranteed to work in Whirlpool, Amana and Maytag refrigerators. However, the filter cost is pricey and the water taste is not really good.
Pure Life Whirlpool Filter 1 Replacement EDR1RXD1, 2-Pack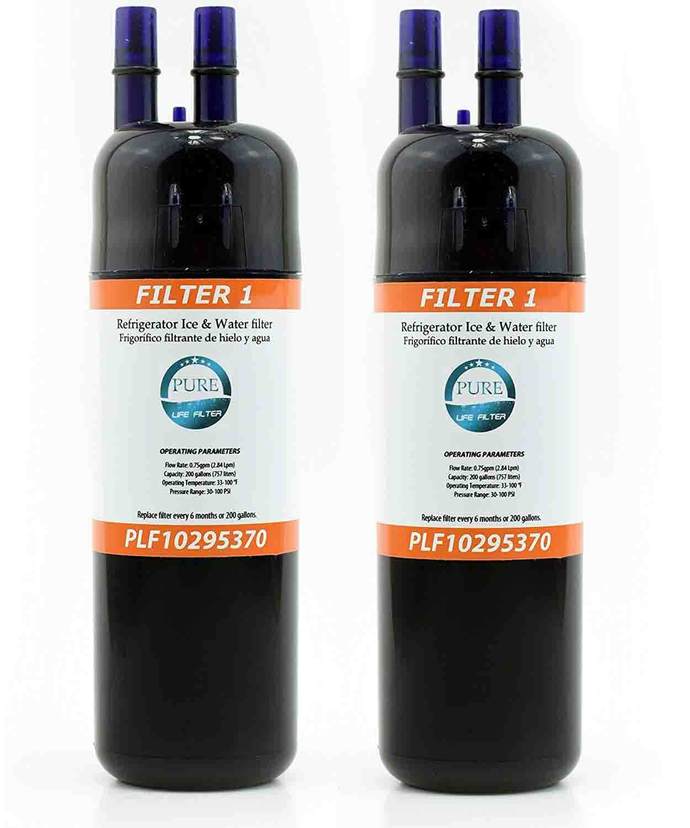 Pricing ~ $49.96
Features
✔️ Reduces contaminants effectively and remain beneficial minerals
✔️ Easy installation and no special tools required
✔️ 6-month lifespan / 200 gallons
✔️ Activated carbon block
The Whirlpool filter 1 from Pure Life claims to have great tasting water for healthier drinking and cooking without chlorine, bad tastes or pesticides. It is compatible with Maytag, Kenmore and Whirlpool refrigerators. But there are complains about leaking and quality from customers.
Aqua Blue H20 Whirlpool Filter 1 Refrigerator Water Filter, 2-Pack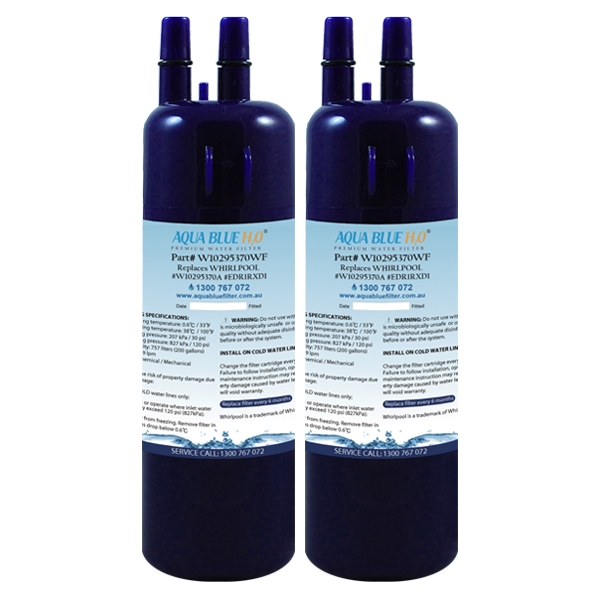 Pricing ~ $70.00
Features
✔️ Removes impurities and chemicals such as chlorine and lead
✔️ Compatible with Whirlpool, Kenmore refrigerators
✔️ 6-month lifespan / 200 gallons
✔️ NSF certified
The Aqua Blue H20 Whirlpool filter 1 is smaller and has a translucent cartridge. It is guaranteed to create great tasting water by leaving potentially healthy, beneficial minerals while removing chlorine, other chemicals and contaminants. However, this filter is rather expensive.