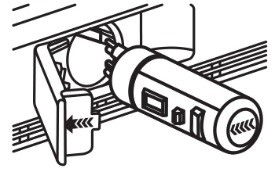 1. Locate the water filter in the top-right corner of the refrigerator compartment and open the cover door. The filter will be released and then be ejected as the door is opened.
2. When the door is completely open, pull the filter straight out.
NOTE: There may be some water in the filter. Some spilling may occur. Use a towel to wipe up any spills
3. Remove all packaging from the new filter. Remove all packaging covers from the O-rings. Make sure
4. With the filter's arrow pointing to the left (towards the filter cover door's hinge), align the new filter with the filter housing. Slide the new filter into place. The filter cover door will automatically begin to close as the new filter is inserted.
5. Close the filter cover door completely. This enables the new filter to nap fully into place. There is a Possibility that you may need to press hard when closing the filter door completely. This is normal
6. Run water from the dispenser for 5 minutes (approximately 3 gallons) to clear the system and prevent air from entering the system.
NOTE: The initial flow rate may be slower than expected. Full flow rate should be restored within 24-36 hours.
7. If needed, reset the Replace Filter light by holding the reset button for 3 seconds.
For more quality Whirlpool Filter 1 Replacement, please visit clatterans.com
Images are for illustration purposes only.
Model Location may vary depending on refrigerator model.
Do not use with water that is microbiologically unsafe, or of unknown quality, without adequate disinfection. Protect from freezing.
FILTER REPLACEMENT SHOULD GENERALLY BE PERFORMED EVERY 6 MONTHS.
FILTER REPLACEMENT MAY NEED TO BE CONDUCTED MORE OFTEN IN AREAS
WHERE THE WATER QUALITY IS MICROBIOLOGICALLY INFERIOR.
The risk associated with small parts can cause choking if swallowed.
Keep children away from small parts during the replacement of the water filter.